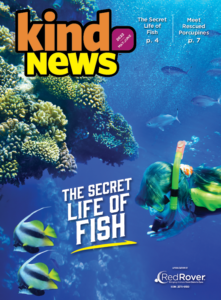 Download the latest digital issue of Kind News
Teach kids empathy with Kind News magazine! Sign up for our educational resources and special offers receive the latest digital issue of Kind News magazine to share with your students or children.
Fun, interactive games and puzzles
Helps students connect with animals and build stronger, more empathetic relationships
Two reading versions: Kind News (grades 3-6) and Kind News, Jr. (grades K-2)
Teacher guide with Common Core, CASEL, and NGSS-aligned activities
Sign up to access magazine links
Parents/Educators: Please review our Privacy Policy by clicking here.
NOTE: If you are a kid, please have a parent or adult fill out the below form, or visit our free magazine archive to view past issues! 
"My third grade students love using Kind News during our Language Arts centers. They use task cards to make predictions, ask and answer questions about different articles, and use text features. We love having an engaging nonfiction magazine that peaks the interests of our students."
"My second grade students love Kind News. They connect with the beautiful photos of animals and engage in the on-level informational text articles that teach them facts that interest them. When I pull out Kind News for our reading task, the kids cheer. They also enjoy the word searches and tasks built into the magazine. Kind News is a great source of reading fun and instruction for my readers!"
"Kind News provides authentic, high quality informational text for students in a meaningful format. Materials like this are hard to find, thank you for providing such a great resource for students!"